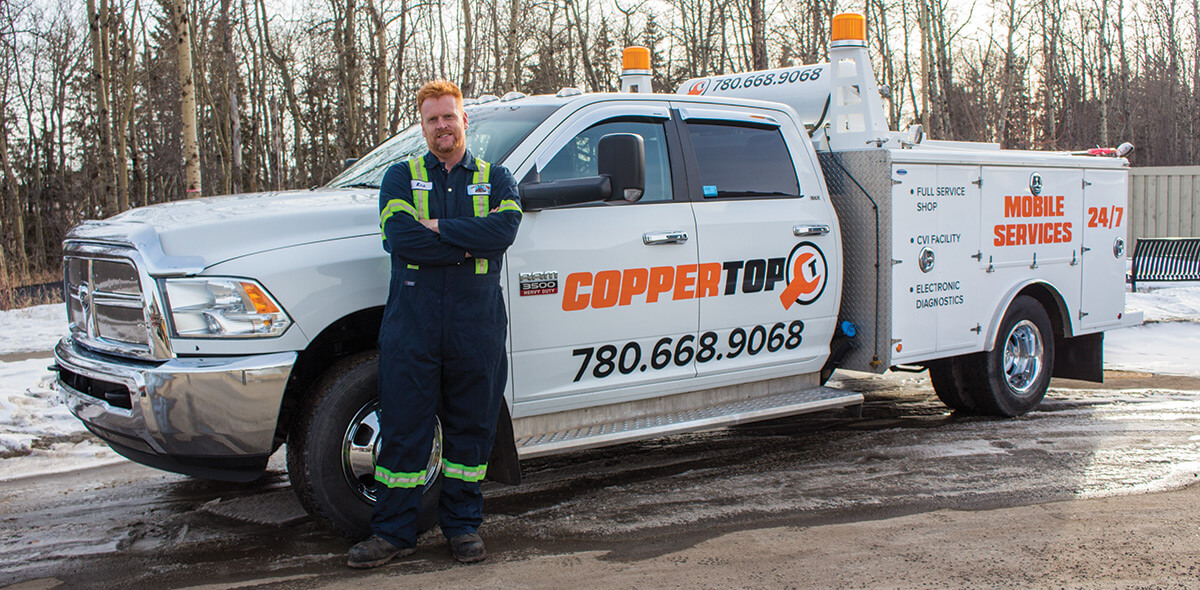 Semi Truck Repair Shop Edmonton
Semi Truck Repair Shop
We here at coppertop provide both a semi-truck repair shop as well as a 24/7 mobile emergency repair service truck. Our expert team heavy-duty mechanics can repair or replace major or minor truck repairs from brake pads to the full engine and every type of repair in between. Whether you can bring your rig and gear to our conveniently located heavy-duty shop, or you need us to dispatch one of our fleet of mobile service trucks to your location there is no problem!
Why bring your semi-truck to us?
Lighting and electric truck repair service
brake diagnostic and truck service
Air leak diagnostic and truck repair service
Electrical diagnosis and truck service
Welding of major or minor trailer damage repair service
Wheel end maintenance and trailer repair
Full CVIP (commercial vehicle inspections) services
Why our semi-truck repair service?
We will provide several semi-truck repair service which includes:
Engine rebuilds repair

Differential truck repair service

Transmission rebuilds service

Comprehensive troubleshooting

Full clutch replacement truck service
Full electronic diagnostic
We here at Coppertop Truck Repair offer fully certified red seal journeyman heavy-duty technicians with the latest in modern diagnostics software and technology that will help troubleshoot and diagnose your truck for any problem.
We will get your heavy semi-truck back on the road as quickly as possible and work with your schedule. If you want to leave your truck and not worry about repairs done on it, then leave it at our heavy-duty shop! Need someone to help your heavy-duty truck on the side of the road and fast? You will not waste any downtime, with our mobile service trucks.
At our semi truck repair shop, we will change your Engine Oil and much more!
Our heavy truck service repair shop does everything from engine oil changes and routine service to the full engine rebuilds. We will change your commercial truck engine oil regularly. You should schedule repairs and schedule your truck oil every ten to twelve thousand miles, or after 300 hours of driving, depending on driving conditions. You should less frequently change Synthetic oil, but our services are affordable and do not cost more. No matter what the schedule for changing your semi-truck oil, stick to it.
We have the right oil, filters, and any other parts for you at our heavy truck repair shop. Looking for specific engine oil for your heavy-duty truck or equipment, visit our shop, or we will send our mobile service truck to you.

We will change your air filter
Just like an athlete during a hard workout, your semi-truck needs repair service and air to ensure it is efficiently running and at full power. To keep that massive amount of air flowing, regularly replace your air filter after every fifty thousand miles, or sooner if driving in dusty conditions. Having a clogged air filter is like choking the life out of your heavy-duty semi-truck. We will carry out commercial truck repairs and any service your truck needs including air filters to keep contaminants out of the engine.
Please call us if you have a clogged air filter or any other challenges with operating your rig. We will do a semi-truck repair service and ensure your air filter and oil is correctly replaced on a regular basis. This will ensure the proper functioning of your semi and eliminate the problem as early as possible.
We perform semi-truck repair for every design of commercial trucks on the side of the highway From International Trucks to Freightliner Trucks and everything in between. We will send our mobile service truck anywhere in Northern Alberta or offer our heavy-duty shop for any maintenance or repairs.
Our semi-truck repair shop is a one-stop-shop for small to large repairs, and you will get all that you want for your heavy-duty trailer if a repair is needed.
Check your semi-truck temperature Level and do the necessary repairs
A properly maintained cooling system is at the core of keeping a big rig working hard. For all the harsh working conditions trucks can handle, what they don't take well is overheating. When your commercial truck overheats, it can mean big trouble and frequent visits to a heavy-duty repair shop. Many trucks are equipped with both a warning light and audible alarm on the dashboard to warn the truck operator that the engine is beginning to exceed its average operating temperature.
Check your truck's temperature level regularly to be sure they're in working order. Besides checking the coolant level, check to be sure it's clean, and kept at the right fluid levels.
Have coolant leaks, and your semi-truck is overheating, or you have fuel leaks and can be running out of fuel. Whenever your commercial truck gets stuck along the road, we will come to your rescue with our fully stocked and tooled mobile service truck and mobile heavy duty mechanic. Our customers-recommended technicians will be there quickly to ensure that you have as little downtime as possible. For all your semi-truck repair, contact us today
Our heavy-duty shop mechanic will check and repair your Brakes system
With 80,000 pounds of semi-truck coming down the highway at 120 kilometers per hour, that's one load that you can't stop on a dime. It takes a compelling braking system on the tractor and trailer to stop straight, fast, and safe. Semi-truck brakes repairs are the most critical safety measure on your truck.
Your commercial truck brakes generate massive amounts of friction and heat. Whenever your truck operator presses the brake pedal to stop your semi-truck, eventually, that takes its toll on the braking system, and you need to repair or replace it before it fails. A brake repair at such a critical time is essential. Being sure your brakes, brake fluid, hoses, and connections are in good shape is a top priority. Repairing your brakes can save you from costly semi-truck repairs.
We regularly carry out brake repairs. Our customer service team is amicable and we offer very knowledgable heavy-duty fully certified technicians ho can assess the conditions of your brakes. We will do that to get your load up and going again. Need a simple semi-truck repair, or is your air system frozen? We have the necessary heaters and tarps to get the system working. We will ensure your tire is in good shape.
We provide immediate roadside heavy duty truck repair
The difference is that we have a combination of fully certified journeyman heavy-duty mechanics combined with fully stocked and tooled service trucks to repair your commercial semi-truck quick up so you can get to your long haul.
We are thrilled in providing a full-service heavy-duty center for commercial truck repairs.
We have heavy-duty mechanics/technicians with over 15 years of experience. They will assist with all your service needs. Contact us for all your diesel repair services. We offer a wide range of truck repairs, from routine maintenance to significant engine and truck repairs. Whether you have one commercial truck or a complete fleet of commercial trailers, we can carry out any and all truck repairs.
We provide one of the most comprehensive trailer repair services in Alberta.
When it comes to heavy truck repairs and maintenance, little details will make a huge difference. Any sign of carelessness or neglect can result in a costly truck and trailer repair or a tragic accident. Alberta residents depend on trucking service; the safety and dependability of your semi-truck repair are essential. Take it easy and Keep to a regular maintenance schedule. That will go a long way in keeping your semi-truck working on the road and out of the truck and trailer repair shop.
You are searching for a heavy truck repair shop near me. Whether you have a mechanical problem with the fleet, be it day or night, we will come out and get your heavy-duty truck back on the road with our heavy truck mobile repair.
We will repair your truck and trailer and get it back on the road as quickly as possible. If you want to leave your semi-truck and not worry about us doing repairs for your heavy-duty, then we are the shop for you! Need someone to assist with semi-truck repair service on the side of the road and fast?
No Problem, we will send our fully certified heavy-duty repair technician. Our semi-truck repair mechanics work on almost all makes and models of heavy equipment.
If you want to repair your truck or buy a new heavy-duty truck and want to be sure that it is reliable, we can perform an on-site pre-purchase inspection. To help you decide with confidence. You can search for us on Google.
Call us or email us today for more information on your semi truck repair needs.