Mobile Service Truck Edmonton  
Whether you call it a service truck or roadside truck repair, or simply a mobile mechanic, Coppertop is all of this and more.
Why use our roadside truck repair service?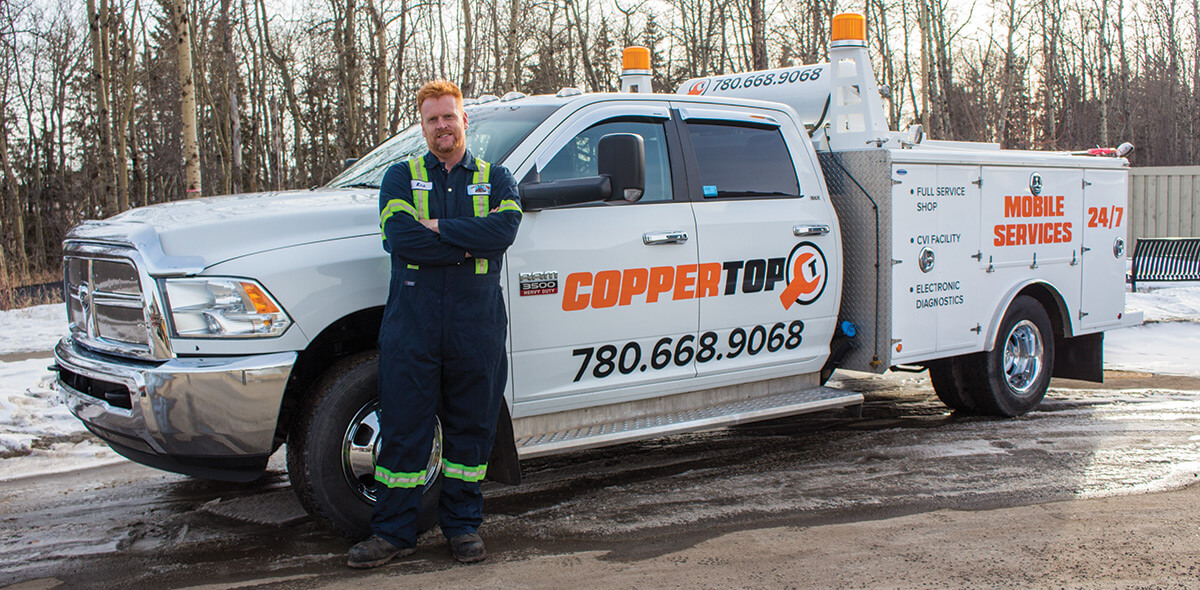 When you are stuck on the side of the road, we will come out to you with a stocked service truck. We carry commonly used parts such as brake pots, air brakes, governors, purge valve kits, and a variety of fittings to get you back on the road again.
When we come out, we have the diagnostic software and expertise to deal with today's modern engines, whether it be a simple forced regen or a complete replacement of turbos or DPF.
We can do most repairs on-site as long as it is safe. If your truck won't build air, the brakes are frozen, you have broken airlines, there are coolant leaks, you have run out of fuel, there are fuel leaks, or your truck just won't start, we can be there to fix it and get you rolling again.
Are you looking at buying a new truck and want to be sure it's going to be reliable? We can do pre-purchase inspections on-site so that you can make a decision with confidence. 
Stuck in the middle of nowhere but need to get somewhere?
Whether your brake pot is leaking on the Henday or your truck won't run properly in Norman Wells, we can be there and help! 
Coppertop's customer-recommended staff can be there within hours if not minutes to ensure you have as little downtime as possible.
Wondering about what areas we serve?
Our large fleet of heavy duty mobile service trucks serve primarily the northern and central Alberta area, however, upon request we are serving clients in Saskatchewan and British Columbia. For more information contact us today!
Mobile Service Truck Advantage
Coppertop offers a fleet of mobile emergency service truck in central and Northern Alberta. We can be at your equipment on the side of the raod within minutes to a few hours depending on your location and our current call demands (Contact Us Now, and talk with one of our experienced staff!!)
We offer fully tooled service trucks that are stocked and equipped for most common repairs, we also offer with fully certified technicians to help get your equipment up and running to avoid expensive downtime costs. 
Mobile Heavy Duty Mechanic
Coppertop's fleet of Mobile Service trucks all come with fully certified Heavy duty Mechanics. With over 10 years of experience in mobile truck repair, rest assured you are coming to the experts with experience and fully equipped heavy-duty technicians. Want more info? Learn more about our mobile heavy-duty mechanics here!
We also offer a variety of services:
Mobile Heavy Duty Truck Repair Near Me?
Yes! We know how important it is to have your truck up and running quick! We offer a fleet of heavy-duty service trucks fully tooled to ensure that you are not sitting very long. 
Every single mobile heavy duty mechanic is fully tooled and stocked with basic parts to ensure we can handle your repair the right way the first time.
We frequently get asked a variety of questions regarding our mobile emergency heavy repair service trucks that can fix your rig, here are some of the most common questions:
What kind of experience do your mobile heavy equipment mechanics have?
We only send fully certified heavy-duty technicians out into the field to asses your problem, and repair it all in one visit if possible.
What type of equipment do your service trucks carry when coming out to fix my heavy equipment?
We only send fully tooled service trucks with the most popular heavy-duty parts, we have built our reputation over the past 15 years on resolving truck drivers breakdowns on the road quickly efficiently and affordably. This reputation is based on the backbone of a fully stocked and tooled heavy duty services truck, with very knowledgable heavy-duty technicians.
How long does it take to get a mobile heavy-duty truck repair service? 
This really depends on the semi-truck or trailer or piece of heavy equipment that needs repairing and how far you are from one of our fleet of mobile heavy service repair trucks. We are very conscious of your needs, respect for downtime and ensure an affordable repair, we typically will try to troubleshoot and anticipate potential parts before we come so as to ensure a smooth experience.
Do you offer 24-hour emergency truck repair service?
Yes, we do! we offer 24 hours, 7 days a week, full heavy-duty mobile repairs for any emergency, we come to you fully tooled and rigged up to ensure you get the best service at an affordable rate!
What if you don't have the parts to fix my heavy equipment on the highway?
Yes! No problem! we actually follow a protocol of troubleshooting procedures to anticipate any outcome, with mobile heavy-duty technicians with over a decade of mobile service truck work, we have seen it all and will be able to anticipate most repairs. Why is this important? We then save you expensive downtime and money on waiting for an inexperienced mechanic to make up for the lost time.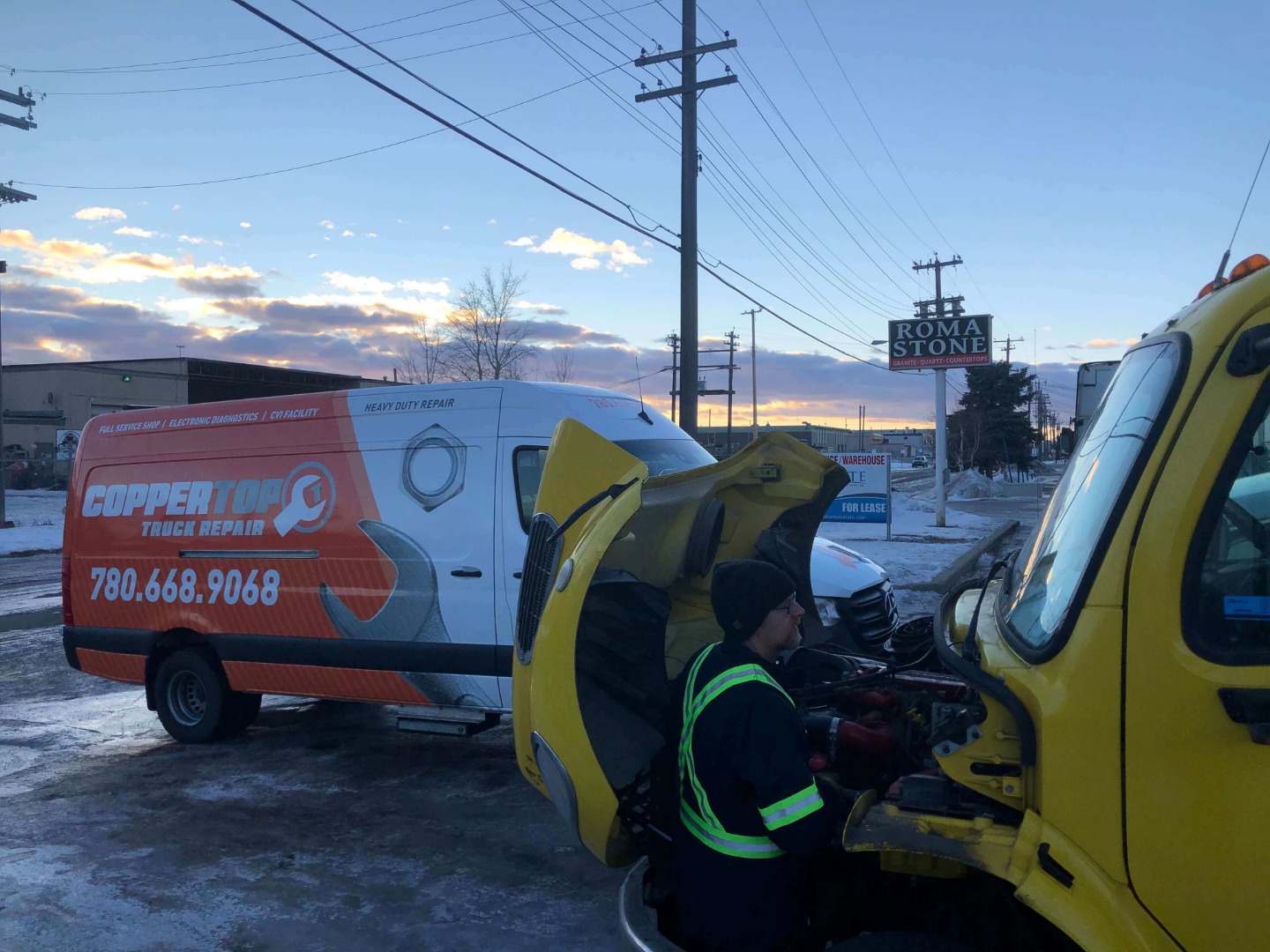 What commercial truck models do you repair?
We here at Coppertop repair all the most common trucks and trailers on the side of the highway, here is a list of the most common equipment we send our mobile service truck to repair:
Freightliner, International, Peterbilt, Kenworth, Western Star, Mack Star, Volvo 
What commercial trailer models do you repair?
Titan Trailers, Aspen Trailers, Doepker trailers 
We offer complete roadside assistance and repairs on ANY makes and models of equipment!
Commercial Heavy-Duty Truck Repair Alberta 
We offer comprehensive heavy-duty mobile repair services of almost any and all types of commercial trucks, commercial trailers, and equipment.
Didn't find the information you require here? Here are some of Kirks favourite resources:
Want to know the Coppertop difference? here check out why we are the only heavy-duty shop to go to! Mobile Service Truck Our Difference