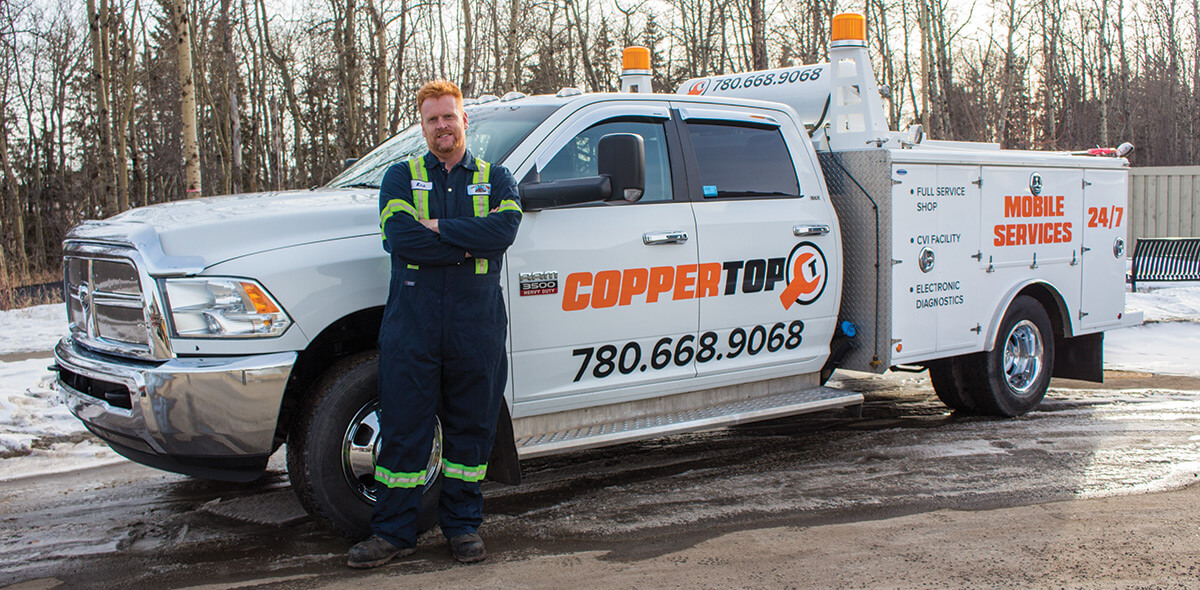 Heavy duty mechanic jobs in Edmonton Ab
Heavy duty mechanic jobs in Edmonton Ab
Looking for Heavy Duty Technician jobs? Look no further Coppertop has you covered!
Drop us your Resume today! and check out our jobs here
Heavy-duty mechanics fix, analyze changes, redesigns, and keeps up with technology changes, powerful portable hardware utilized in the repair of transportation, ranger service, mining equipment, oil and gas industry equipment, land clearing and cultivation equipment in addition to other industrial gear.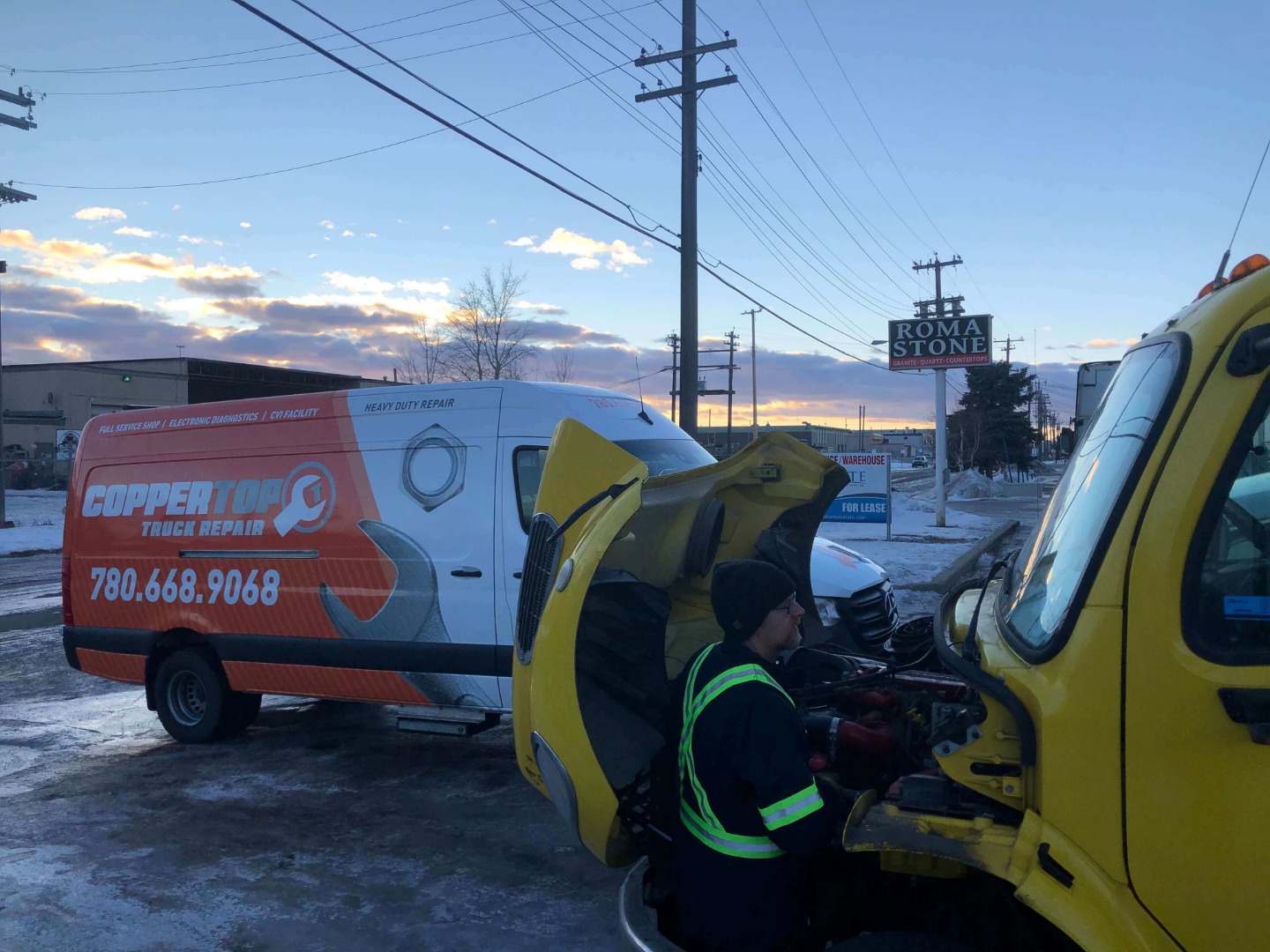 The basic skills for a commercial heavy duty technician apprentice to start a job are good communication, customer service, safe driving, repair work, heavy lifting, writing service reports, etc. The education/qualification for a job is a high school diploma in Edmonton, Ab. The average salary is $18.54 -$24.11 per hour in Edmonton, Ab.
There are various other jobs that you can quickly get in Edmonton, Ab, such as:
Transportation equipment repair

Material handling equipment repairs

Commercial equipment repairs

Oil and gas equipment repairs

Commercial trailer repair service

Minor and major repairs services

Diesel Engine repair
Edmonton Heavy Duty Technician Opportunities
So, keep an eye on each job opening to secure your next heavy-duty equipment mechanic job in Edmonton, Ab. You should consider getting an in-house operators certificate and license to make your job hunt easier. In-house operator services providers are hired by various companies, and this job includes variable pay plans in Edmonton, Alberta. All you need to do is perform your regular maintenance duties for a specific organization in Edmonton, Alberta.
Contact Us for an interview today! Contact Here

Frequently Asked Questions About Commercial Equipment Mechanics
How much does a heavy-duty mechanic make in Canada?
There are different types of heavy-duty mechanic jobs in Edmonton ab. Depending upon the labor, the salary of each mechanic is different from the other. The average salary of a mechanic working in Canada is $28.28 - $35.87 per hour. The basic pay is $58,500 - $69,940 annually in Edmonton, Ab.
Is heavy-duty mechanic a promising career?
Heavy duty mechanics is a promising career as it is the highest paid mechanic. It is physically hard to be a mechanic as you work on heavy vehicles like heavy trucks or repair Caterpillar Rental Equipment, which is very large from an average car. You have to know information about heavy equipment and their every detail. You have to work 24/7 for repair work in Edmonton, Ab.
How to get heavy-duty mechanic jobs in Alberta?
There are many mechanic jobs available in Alberta. You can quickly get a job if you fill their employment requirements. These employment requirements include a high school diploma, three-four years of work experience, or any industry course for repairing heavy equipment.
Are heavy-duty mechanics in demand in Alberta?
From 2019 through 2023, Alberta's 7312: Heavy-duty equipment mechanics occupational category is anticipated to experience below-average annual growth of 1.4%.
In addition to the job opportunities brought on by employee attrition, this occupational category is expected to add 272 new roles per year. So yes, heavy-duty technicians are in demand in Edmonton, Ab. 
Typical types of heavy duty mechanic positions
Heavy Duty Technician (heavy duty equipment mechanic off road)
Coppertop is referencing Alberta Trades
Heavy equipment technician-heavy duty equipment mechanics (Off-road) maintain, repair and overhaul heavy vehicles and industrial heavy equipment.
Maintenance and repair of vehicles and equipment may include:
internal combustion engines and components, both stationary and mobile,
tracked equipment, commonly called crawler tractors,
ground engaging equipment and components,
earth moving equipment,
off-highway motor vehicles, commonly called trucks, and
towed off-highway vehicles, commonly called trailers.
In general, heavy equipment technicians must:
interpret work orders and technical manuals,
keep equipment cleaned, lubricated and maintained,
diagnose faults or malfunctions,
adjust equipment and repair or replace defective parts, components or systems,
test repaired equipment for proper performance and ensure that the work done meets manufacturers' specifications and legislated regulations, and
complete service reports.
Apprenticeship
The term of apprenticeship for a heavy duty equipment mechanic (Off-road) is 3 years (three 12-month periods) including a minimum of 1500 hours of on-the-job training and 8 weeks of classroom instruction each year.

Apprentices are expected to demonstrate progress in their apprenticeship program within 18 months by engaging in an activity that will lead to the completion of a period of the program.
Apprentices may attempt the Interprovincial Exam

 

in the final period of their apprenticeship training and, if successful, be granted a Red Seal.
Upon successful completion of the apprenticeship program, the apprentice will receive a journeyman person certificate and an educational credential (Diploma).
Looking for a heavy duty mechanic job right now? Check out our resources right here Heavy Duty Mechanic Jobs
Affordable and reliable mobile service truck in Edmonton
Our specialists in commercial truck and trailer repairs offer high-quality, competitive services. We are the leading company in heavy-duty Edmonton mobile service. Our heavy-duty mechanics are very professional in handling your semi-truck or trailer. Regardless of what model or make you are driving from Kenworth to Peterbilt and everything in between, Our top priority is to ensure you are back on the road whenever you need it most!
Scheduled mobile truck maintenance service
Do you need to keep your trailer, truck, or even fleet running strong all year round? Our service technicians will provide minor and significant commercial truck repairs in northern Alberta and Edmonton. Our team of highly qualified heavy mechanics knows the needs of your truck's maintenance.
Our scheduled maintenance services include:
• brake review and replacement
• oil & air filter changes
• drive train diagnostics
• electrical diagnostics and service
For your scheduled maintenance services, look no further than our mobile repair! or alternatively, come to our conveniently located heavy-duty shop!
On-site truck or trailer repair service
Need us to come to your facility or garage to make repairs? No problem! Our service trucks will come to you! We will bring our full range of tools, parts, and expert technicians to your site to service your heavy trucks and or trailers and get them back up and running.
24/7 heavy-duty roadside service
Whenever you are on a highway, the only sure thing is uncertainty. Even if you have a well-maintained semi-truck, you can still be subject to adverse breakdowns and situations. Our mobile truck service repair specialists are available anywhere within the northern Alberta and Edmonton area. Whether you want help starting your truck or just another emergency trailer repair, we will be the first to come and provide you with a quick service. Your truck getting back on the road is our joy and our pledge!
We base our reputation on the highest quality mobile truck repair service. We also offer industry-leading commercial; trailer repair. When you're heavy-duty truck breaks down, your driver knows the headaches a truck can bring if you have a terrible trailer that keeps you sidelined for long hours. With the assistance of our heavy mobile repair, we will fix you as quickly as possible, and as importantly ensure you are not stopped just down the road with similar issues.
When you have a problem with your transport truck or trailer, give us a call today. We have very friendly fully certified heavy-duty mechanics who will be on-site quickly. Fully equipped and prepared for your mobile trailer repair service in Alberta. You can Google our service trucks. We also offer heavy-duty shop services for most trailer repairs and parts.
We are just a phone call away - day or night - 365 days a year.
Give us a call today for your mobile heavy service truck repair needs.
Kirk's Top Resources Surrounding Edmonton:
Heavy Duty Mechanic Certifications
Heavy Duty Technician Educational Resources