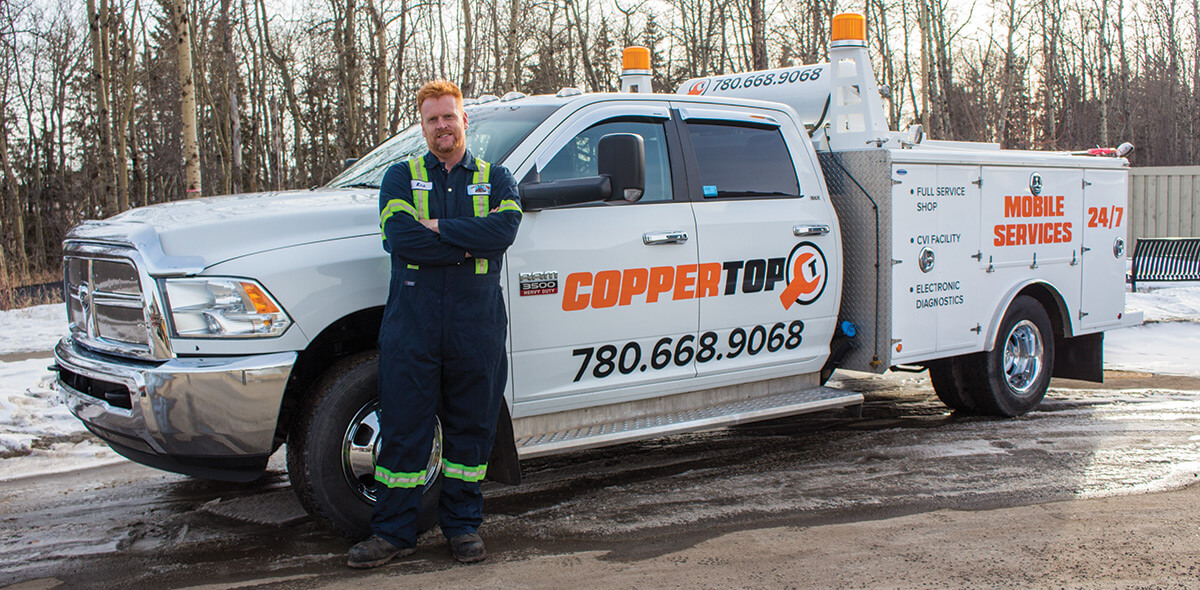 Mobile Service Truck Edmonton
Mobile Service Truck Edmonton
If you are broken down on the side of the road and seriously looking for a mobile heavy-duty truck service Edmonton based, you have come to the right place! We offer mobile commercial truck and trailer repair as well as several preventive maintenance services for your heavy-duty truck an or trailer.
Save money with our mobile service truck
Just like with our roadside mobile service, we will travel to your location whether it's in Edmonton, Leduc Nisku, Acheson, or maybe you are as far as Vermillion, or near Edson, We service all of northern Alberta to carry out the repair services if necessary to keep your truck smoothly running. We will service your heavy-duty truck or commercial trailer and take away your worries with our expert service and convenience second to none.
You can always count on our truck & trailer mobile heavy-duty technicians when there is an emergency. Our mobile service is always available whenever you are in dire need; however, it is easier to keep such problems at bay with our fleet maintenance programs and repairs.
If you have a heavy-duty truck or a semi-trailer near Edmonton, Alberta, you need to rest assured that you will always have our team of heavy-duty technicians just moments away. We have certified, red seal, journeyman heavy truck repair mechanics with many years of experience. We do understand the frustrations you may be going through when your heavy-duty truck is stuck on the side of a highway!
Our specialists will ensure that you get back on the road in no time. Our full-time commercial road service will come right to your location and fix the problem. We use high-quality equipment in a fully tooled and parts stocked service truck and offer the most modern technology to solve your repair needs. Our mobile trailer repair services are very affordable and very convenient. What does this mean to you? well we know time is money and the most costly part of running a rig is usually downtime and mechanical failures, so having fully certified technicians, fully tooled service trucks, and experienced mechanics are the exact combination to minimize downtime and the need for future repairs, get it done right the first time every time!
Whether you need a simple roadside repair or help with a no start, give us a call.
Affordable and reliable mobile service truck in Edmonton
Our specialists in commercial truck and trailer repairs offer high-quality, competitive services. We are the leading company in heavy-duty Edmonton mobile service. Our heavy-duty mechanics are very professional in handling your semi-truck or trailer. Regardless of what model or make you are driving from Kenworth to Peterbilt and everything in between, Our top priority is to ensure you are back on the road whenever you need it most!
Scheduled mobile truck maintenance service
Do you need to keep your trailer, truck, or even fleet running strong all year round? Our service technicians will provide minor and significant commercial truck repairs in northern Alberta and Edmonton. Our team of highly qualified heavy mechanics knows the needs of your truck's maintenance.
Our scheduled maintenance services include:
• brake review and replacement
• oil & air filter changes
• drive train diagnostics
• electrical diagnostics and service
For your scheduled maintenance services, look no further than our mobile repair! or alternatively, come to our conveniently located heavy-duty shop!
On-site truck or trailer repair service
Need us to come to your facility or garage to make repairs? No problem! Our service trucks will come to you! We will bring our full range of tools, parts, and expert technicians to your site to service your heavy trucks and or trailers and get them back up and running.
24/7 heavy-duty roadside service
Whenever you are on a highway, the only sure thing is uncertainty. Even if you have a well-maintained semi-truck, you can still be subject to adverse breakdowns and situations. Our mobile truck service repair specialists are available anywhere within the northern Alberta and Edmonton area. Whether you want help starting your truck or just another emergency trailer repair, we will be the first to come and provide you with a quick service. Your truck getting back on the road is our joy and our pledge!
We base our reputation on the highest quality mobile truck repair service. We also offer industry-leading commercial; trailer repair. When you're heavy-duty truck breaks down, your driver knows the headaches a truck can bring if you have a terrible trailer that keeps you sidelined for long hours. With the assistance of our heavy mobile repair, we will fix you as quickly as possible, and as importantly ensure you are not stopped just down the road with similar issues.
When you have a problem with your transport truck or trailer, give us a call today. We have very friendly fully certified heavy-duty mechanics who will be on-site quickly. Fully equipped and prepared for your mobile trailer repair service in Alberta. You can Google our service trucks. We also offer heavy-duty shop services for most trailer repairs and parts.
We are just a phone call away - day or night - 365 days a year.
Give us a call today for your mobile heavy service truck repair needs.
Kirk's Top Resources Surrounding Edmonton: